Part I: Present EHS management conditions of CR Chemical Holdings
In order to realize the EHS strategy of safe and harmonious development, CR Chemical Holdings established Safety & Environment Protection Department in Jun. 2013 which was staffed with two full-time EHS management personnel, assuring good order and normalization of the implementation of EHS work from the organization level.
I. Main safety risks existing with CR Chemicals
1. Warehousing business unit
Main places affected: the terminal and depot areas of hazardous chemicals in Yangtze River region.
Form of hazards: various accidents and incidents caused by chemical spills
2. PET business unit
Main places affected: rotating parts of equipment, high-temperature pipe facilities and work at heights etc.
Form of hazards: mechanical injuries resulted from lack of equipment protection; scalding resulted from contact with high-temperature medium; falling accidents for work at heights.
3. Other businesses
Main hazards: risks brought about for breach of regulations during operation of specially-licensed chemicals (precursor chemicals, hazardous chemicals)
II. Comparison of risk level between CR Chemicals and other level I profit centers of the Group
III. Safety management work carried out with CR Chemicals
1. Establishment of perfect safety management system
Continually improve and spirally promote the "value-creating production safety management system of CR characteristics" according to the regulations of EHS Management System Construction Guideline of CR Group and on the basis of PDCA cycle management procedure, so as to realize the normalization, standardization, and science-orientation characteristics of EHS management. At the same time, direct the grass-root enterprises to establish nine basic safety management system and professional system. During the establishment of the system, CR Chemicals Holdings has totally complied 22 level I management system documents and 14 level II system documents, which provide institutional guarantee to the system.
2. Strengthen the implementation and assessment of safety responsibility system
At the beginning of each year, draw up the annual safety objective for CR Chemical Holdings according to the safety objective responsibility letter issued by CR Group in combination with the actual production and operation of CR Chemical Holdings, which will be broken down to the responsible departments and grass-root enterprises.
3. Vigorously strengthen the basic safety management work
Establish and perfect emergency units of all levels and equip with the necessary emergency and rescue apparatus; ensure the effectiveness. Draw up the emergency document system as comprehensive emergency plan, special emergency plan, and on-the-scene handling plan and drill regularly. Enforce the Law on Prevention and Control of Occupational Disease to reduce and eliminate occupational health hazards and risks; carry out occupational hazard identification, assessment, and control; supervise the grass-root enterprises to continually improve workplace environment, so as to protect the health of the employees; occupational health physical examination shall be carried out before, during, and after the job.
4. Routine management of "safety behavior observation" and "equipment intrinsic safety"
At the beginning of each year, CR Chemical Holdings draws up the safety behavior observation and equipment intrinsic safety activity plan for the year, specifying the involved personnel, scope, and methods etc; normalizing the management of "safety behavior observation" aimed at the operators and "equipment intrinsic safety" aimed at the equipment to routine work, which is also taken as one assessment requirement for the safety responsibility letter of grass-root enterprises.
5. Push safety culture construction all aground
CR Chemical Holdings carries out diversified safety culture activities as internal safety publicity, safety knowledge contest, article solicitation, speech making, rational proposal acquisition, safety billboards, and safety teams, safety model appraisal etc.
6. Take targeting leveled management and control according to the characteristics of the business unit.
7. Actively push and implement energy-saving and emission-reduction projects.
Part II: EHS results gained by CR Chemical Holdings
I. Assessment of safety objective responsibility system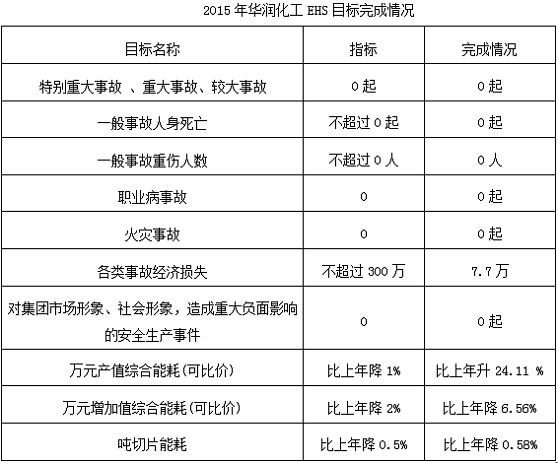 II. Safety system assessment
III. Generalization of excellent safety cases
On 2010 Baiyangdian EHS conference, experience exchange on Emergency Plan Management was carried out within the Group to generalize the good practice of the emergency plans of CR Chemical Holdings in the Group.
On the exchange of Equipment Intrinsic Safety Report held in Shimeiwan Hainan Province in 2012, the forklift speed limit result was generalized for application in such profit centers as Snow Beer, CR Vanguard, and Double Crane Pharmaceutical etc, rendering significant safety effect.
Experience exchange on Safe Behavior Observation Cases was held in Shenzhen 2013, in which eradiation of habitual regulation violation was taken to break through the bottleneck of the safety rate of safe behavior observation, extensively recognized by the profit centers of the Group.
Part III: EHS plan of the next stage for CR Chemical Holdings
I: Follow up and implement the key EHS project of the Group
In the next stage, CR Chemical Holdings will draw up the promotion and follow-up plan for the key projects, so as to ensure the progress and quality for project implementation, thus realizing breakthrough of the EHS management bottleneck.
II: Organize to drill the emergency plants of CR Chemical Holdings
Enterprises of the Group shall draw up the plan and scoring form for desktop drilling of emergency plans. CR Chemical Holdings will organize the enterprises to carry out centralized drilling and scoring, so as to shorten the gap between the enterprises in emergency response capability.
III. Carry out activities of "production safety month" and inspection of production safety
Regularly draw up "production safety month" plan, set up productions safety inspection team of CR Chemical Holdings according to the notice issued by the Group and in consideration the actual conditions of CR Chemical Holdings, so as to perform production safety inspection of the affiliated enterprises.